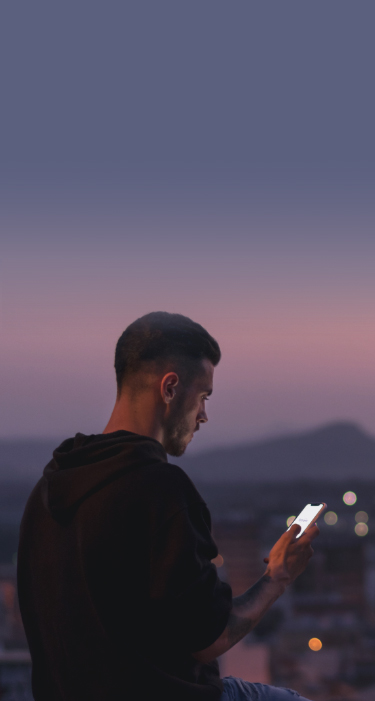 A NEW APPROACH TO CHRONIC INSOMNIA:
Training your brain for better sleep that lasts
Watch How Somryst Works
Digital medicine for chronic insomnia
Proven chronic insomnia treatment backed by clinical data
FDA-authorized digital cognitive behavioral therapy for insomnia (CBT-I) trains your brain for better sleep.
Results
that last
*6 weeks of Somryst® can lead to up to 12 months of sleep improvements.
*In clinical studies, data demonstrated persistent results at 6- and 12-month follow-ups.
Accessible on your
smart device
Wherever you are, whenever you need it, Somryst is always within reach while on treatment.
With the power of telemedicine, you don't have to wait another night
Somryst utilizes an entirely digital prescription process that fits right in with an increasingly on-demand world.
Get Started
Why Somryst?
Addressing the underlying issues of chronic insomnia may be the key to better sleep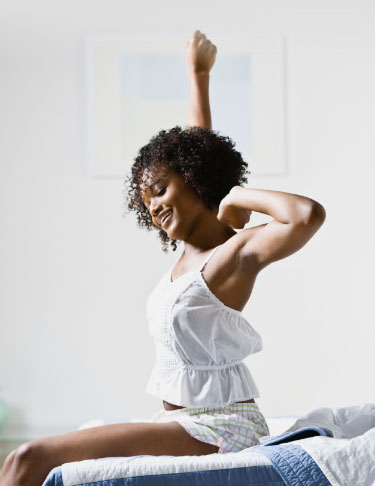 How somryst works
Somryst isn't a sleep aid.
It's clinically proven sleep training.*
From building sharper sleep windows to maintaining detailed diaries, see how Somryst delivers lessons and activities that train your brain to get better sleep, all from the comfort of your smartphone or tablet.
6 focused training cores
45 to 60 minutes per week (plus a few minutes per day for completing a sleep diary)
6 to 9 weeks
*In clinical studies, with 6 to 9 weeks of use, data demonstrated persistent results at 6- and 12-month follow-ups.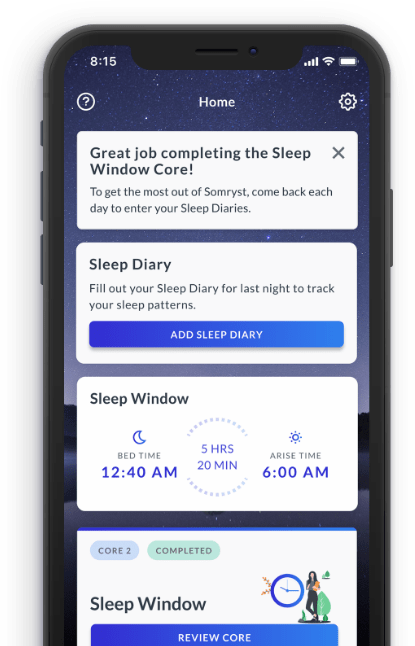 Restimonials™
"Thank you very much for giving me this opportunity. It has made a tremendous difference in the quality of my life."
"…a more realistic and natural approach to the widespread and growing problem of [chronic] insomnia. "
"…it was so easy to incorporate into my daily life."
Awarded Best Digital Health Product 2020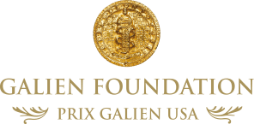 As seen on

Publication coverage and testimonials are based on those received for Sleep Healthy Using the Internet (SHUTi), an early version of Somryst with equivalent content. These testimonials reflect the experience of individual users. They do not guarantee Somryst will be effective for you. Always speak with a healthcare provider.
Ready to take on your chronic insomnia?
Indications for Use
Somryst® is a prescription-only digital therapeutic intended to provide a neurobehavioral intervention (CBT-I) to patients 22 years of age and older with chronic insomnia. Somryst treats patients with chronic insomnia by improving a patient's insomnia symptoms.
Who Should Use Somryst?
You should use Somryst if you:
Are 22 or older with chronic insomnia

Are able to read and understand English

Have regular access to a mobile device (such as smartphone or tablet)

Are familiar with how to use mobile apps (applications)

Are able to upload data periodically. (In other words, you have internet/wireless connection access.)

Are under the supervision of a Health Care Provider
Who Should Not Use Somryst®
(Contraindications)
Somryst uses sleep restriction and consolidation, limiting the time you spend in bed to match the amount of time you sleep. Sleep restriction and consolidation may worsen preexisting medical conditions. Because of this, it is not appropriate for everyone.

If you have any of the following conditions or disorders, you should not use Somryst:
Any disorder worsened by sleep restriction (e.g. bipolar disorder, schizophrenia, other psychotic spectrum disorders)

Untreated obstructive sleep apnea

Parasomnias

Epilepsy

If you are at high risk of falls

If you are pregnant

If you have any other unstable or degenerative illness judged to be worsened by sleep restriction delivered as part of Cognitive Behavioral Therapy for Insomnia
If you are unsure whether you have any of the conditions or disorders listed, speak with your Health Care Provider.
Safety Warnings
Somryst® is not for everyone. You and your Health Care Provider should discuss whether Somryst is right for you.
Somryst is not for emergency use. Please dial 911 or go to the nearest emergency room in the event of a medical emergency.

Do not use Somryst to communicate severe or urgent information to your Health Care Provider.

Somryst is not meant to be used as treatment except under supervision of your Health Care Provider.

Somryst is not meant to be a substitution for any treatment medication.

Somryst contains sensitive medical information about you. It is important that you protect your information by password-protecting your smartphone or tablet and ensuring no one else has access to your device.

Sleep Restriction (and Consolidation) within Somryst can cause sleepiness, especially in the early stages of using the PDT. Somryst should not be used if you need to be alert or cautious to avoid serious accidents in your job or daily life. Examples include:

— Long-haul truck drivers

— Long-distance bus drivers

— Air traffic controllers

— Operators of heavy machinery

— Some assembly line jobs

The usage data collected in therapy lessons by Somryst are not intended to be used as a standalone assessment of treatment progress.
Note: In the early stages of treatment, increased daytime sleepiness may be expected, but is usually temporary. However, if these experiences do not go away over a few weeks, please consult your health care provider as you may have a sleep disorder or medical condition other than insomnia. Also, at any point in the treatment, if you have trouble staying awake while performing potentially dangerous tasks (like driving) avoid these tasks or stop following the sleep restriction component of the therapy.

For best results with Somryst, read and follow the instructions provided in each core, and stay with the therapy until the end. When reporting your sleep results, giving honest and accurate answers is important.
Care Regimen and Self-care
Following your Health Care Provider's instructions for care is always important. If you need help managing your condition, speak with your Health Care Provider.